Why She Regrets (or Doesn't Regret) Them
40-year-old Jessica Alba wears a number of hats. She is a prolific actress known for films such as The Fantastic Four and Honey.
She is a business owner, as she co-founded The Honest Company, which sells natural and clean baby, bath, and beauty items, which was valued at $1 billion.
Derek Jeter's rumored ex is even a New York Times bestselling author for her 2013 book, The Honest Life, about her journey cultivating a natural, holistic life for her and her family.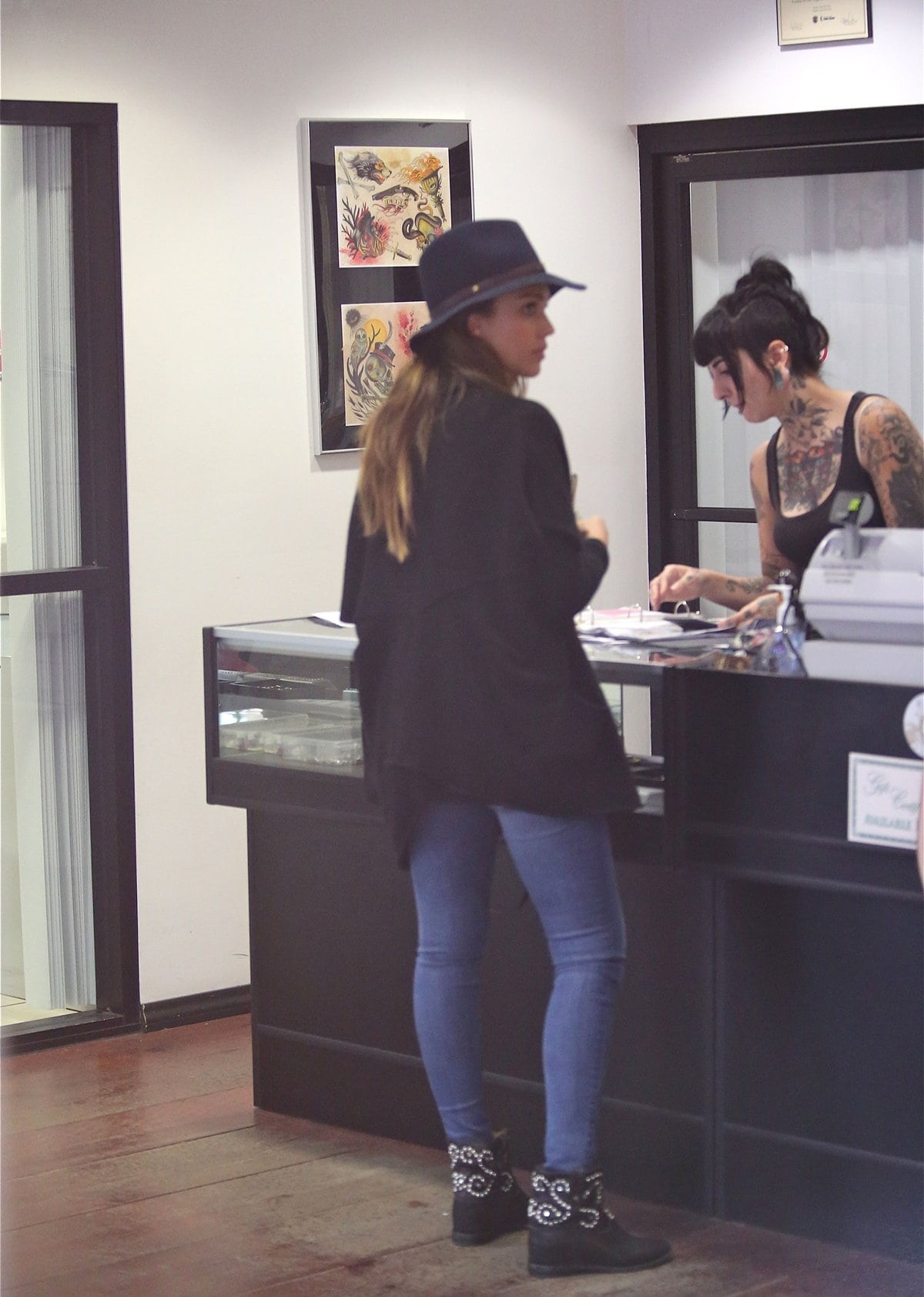 Jessica Alba visits Prix Tattoo shop, a piercing studio featuring an extensive collection of body jewelry, in West Hollywood on January 26, 2014 (Credit: WENN)
What you may not know is that Jessica Alba is also a hardcore ink fan. Not really — but the actress and businesswoman does have a few tattoos.
While she does not have any gnarly skull-and-crossbones or American traditional tattoos that are synonymous with tattoo culture, Alba has used her body as a canvas for a small amount of body art — some that she even regrets getting.
Jessica Alba was first spotted with ink in 2007, sporting a tattoo of a daisy and a ladybug on the back of her neck, which she had gotten as part of a bonding experience with her mother and aunt.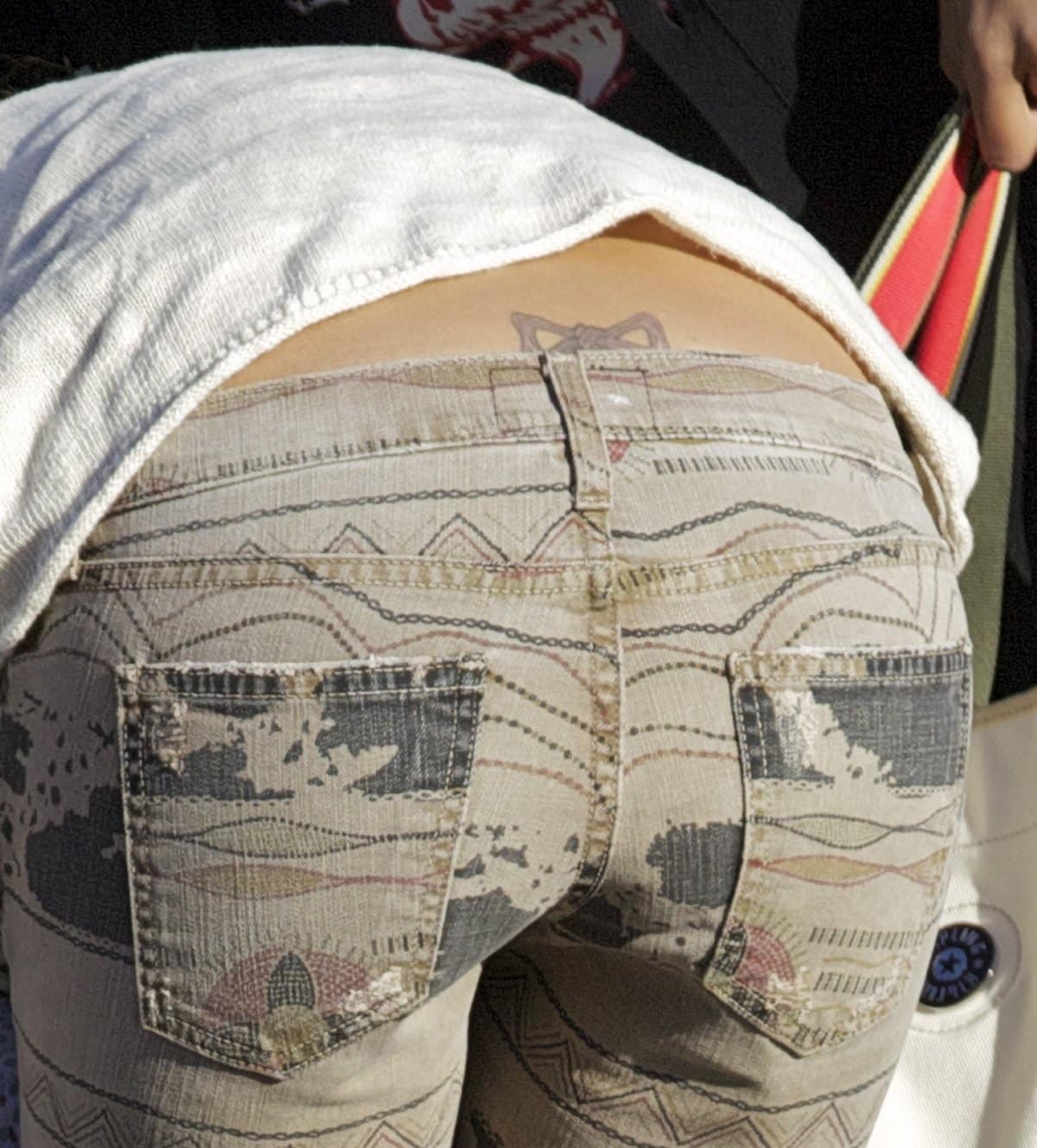 Jessica Alba has a stylish low waist bow tattoo that she calls a tramp stamp (Credit: WENN)
Apparently, her tattoo artist must not have told her that a neck tattoo is not a great placement for an ink newbie — many tattoo artists refuse to do hand, face, and neck body art on people who do not have any or very few tattoos — something that may have been appreciated by the actress as she had this tattoo mostly lasered off by 2019.
"I got it when I was, like, 17 and I'm so irritated that I got it," she said in a 2019 interview with Refinery29. "I got it lasered many times and it's not coming out."
Jessica Alba with a new tattoo on her arm for a new movie role in 2012 (Credit: WENN)
On an appearance on The Late Late Show with James Corden alongside Parks and Recreation actor Ben Schwartz, the actress admitted that she had another tattoo that she regretted.
She revealed it was a small bow on her lower back, saying it was "kind of a tramp stamp" and "it's really bad". However, looking at the photos, it is definitely the textbook definition of the term, tramp or not.
Alba admitted that she was not in the right state of mind when she got the tattoo, saying, "You know what? I was going through a breakup."
Jessica Alba's Sanskrit "Padma" tattoo means "lotus flower" in English (Credit: PNP / WENN)
In a 2016 interview with Allure, the actress said that she wished she could tell her younger self that tattoos are forever and that getting one is not a decision to be taken lightly, saying, "You're never going to be in the same place emotionally and mentally at 18 that you are at 20 or 25 or 30. Something that's meaningful to you when you're younger is not going to be meaningful to you five years later. Understand that tattoos are forever. I have a few tattoos. I'm not into them now the way that I was."
There are many people out there with ink that they wish they had never gotten, and Jessica Alba is no exception.
Luckily, actress and businesswoman earns enough money through her successful career that she can have her embarrassing tattoos removed via laser or covered tenfold.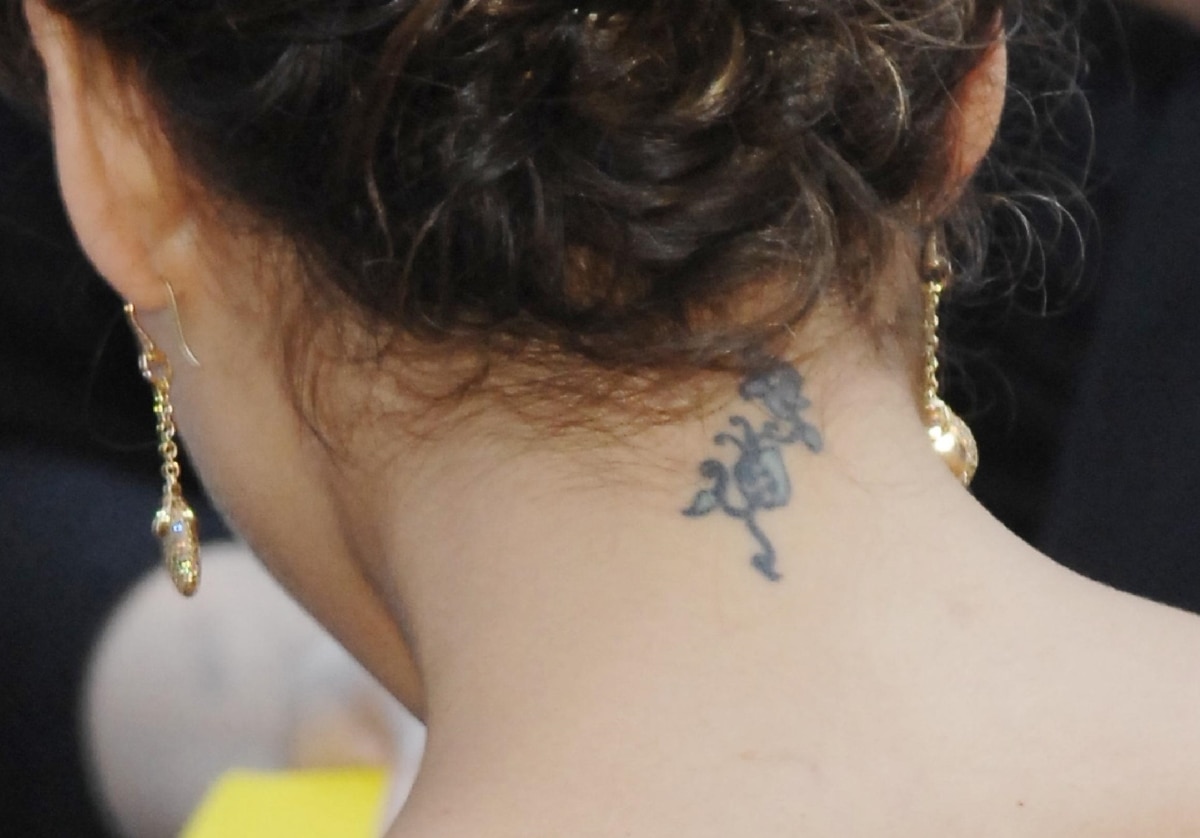 Jessica Alba had flowers inked on the back of her neck but got the tattoo removed in 2009 (Credit: WENN)
Luckily, Jessica Alba does not regret all of her tattoos.
On her left wrist, the actress has a small tattoo of the Sanskrit word "Padma", which means "sacred lotus". The actress has not spoken publicly about hating this tattoo and has not appeared to have had it lasered off, so it is safe to say that Alba does not mind the dainty ink.
Most recently, Jessica Alba got three delicate tattoos on her left forearm. This time, she thought long and hard when deciding to go under the needle, eventually getting the zodiac sign constellations of her three children — Honor, Haven, and Hayes — permanently etched into her skin.
They were inked by acclaimed Los Angeles tattoo artist Brian Woo, aka Dr. Woo.
Jessica Alba shows off three new star constellation tattoos on her left forearm celebrating her three children (Credit: Jessica Alba's Instagram)
Alba's husband and father of her children, Cash Warren, also got these symbols tattooed alongside his wife.
"I really wanted to think about what would be meaningful over time," the actress told Refinery29. "because when you get something you're 17 and now you're 38, you're like, 'Hmm, don't know if that's too meaningful.' But for that one, the kids are forever."
Jessica Alba wears her hair down as she heads to her office in Los Angeles on February 8, 2013 (Credit: WENN)
In early February 2013, we featured Jessica Alba in black Isabel Marant wedge sneakers. The American actress, model, and businesswoman was really loving the popular shoe trend. Just a few days later, we spotted her again in yet another pair while visiting her office in Los Angeles.
This time she opted for a lighter version embellished with blue stars.
Jessica Alba wears a casual outfit with a pair of blue-and-white wedge sneakers (Credit: WENN)
The popular movie actress paired the shoes with an ultra-casual outfit comprised of skinny jeans, a loosely knit sweater worn over a white shirt, a gray blazer, and a white scarf.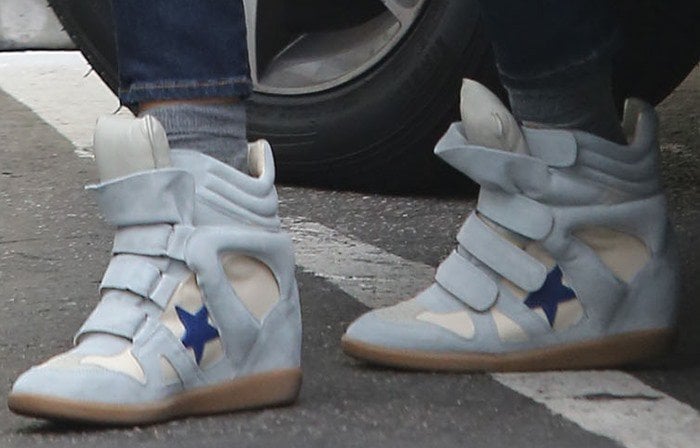 Jessica Alba wears a pair of star-embellished Isabel Marant wedge sneakers (Credit: WENN)
Jessica's sneakers ring in at a whopping $640, which is a little steep for most of us. Take a peek, and see if you'd drop that kind of cash on these designer shoes.
Isabel Marant The Bayley Suede and Leather High-Top Sneakers, $640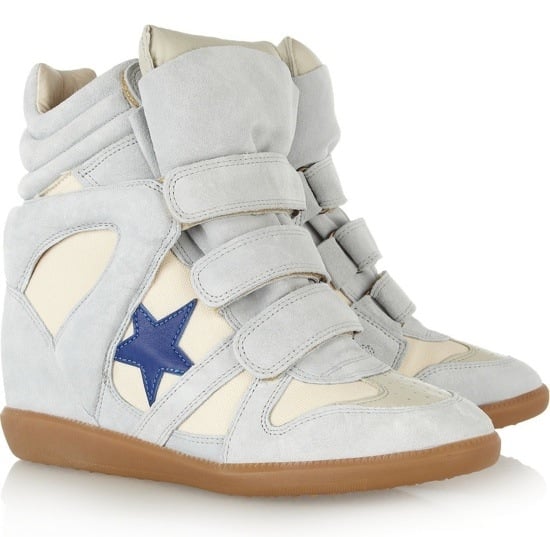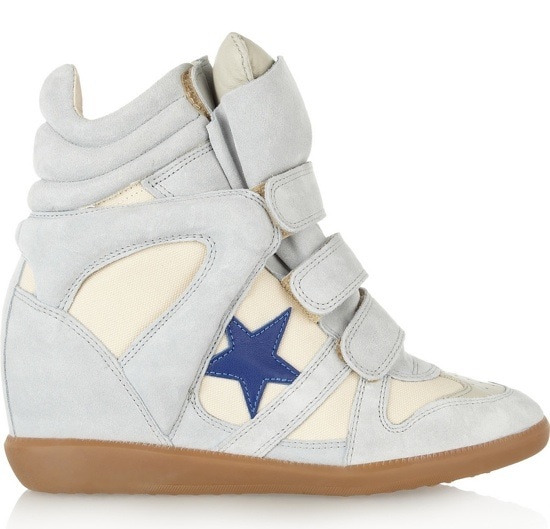 If you wouldn't… no worries. We found a couple of similar and much more affordable styles below.
Ash Suede Wedge Sneakers in Sand, $225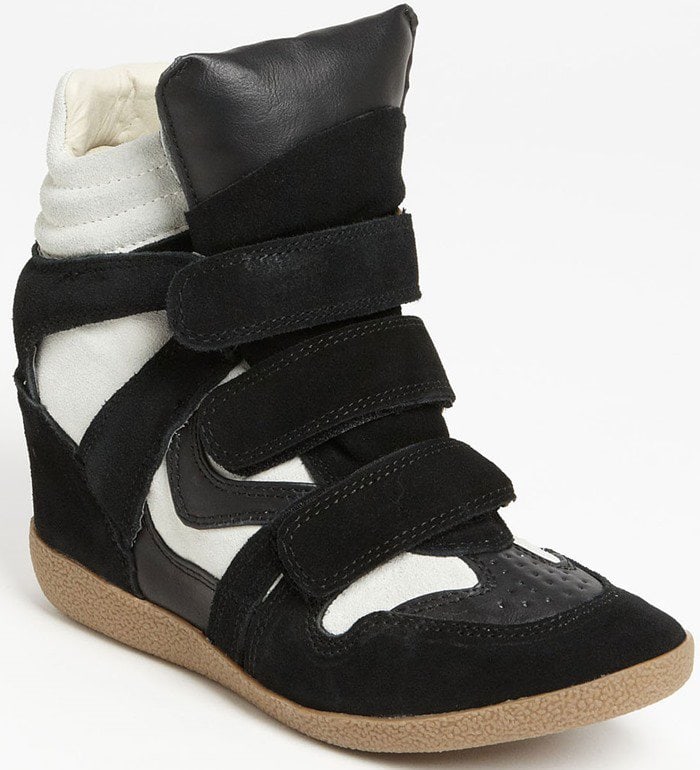 Steve Madden 'Hilight' Wedge Sneaker, $149.95
Are you a fan of wedge sneakers? More importantly, how do you feel about Jessica's Isabel Marant style?