40 Side-Swept Bangs to Sweep You off Your Feet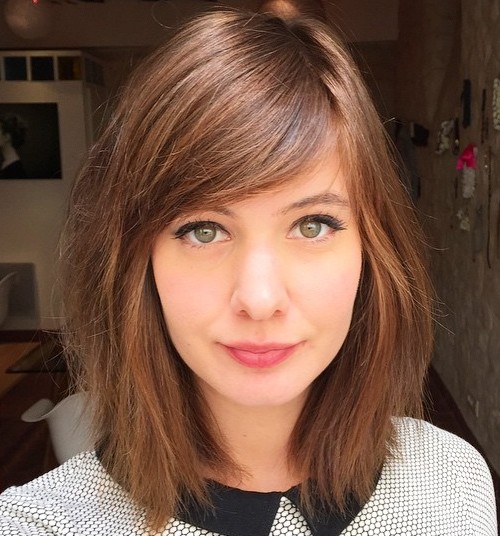 Whether bangs are heavy or wispy, long or cropped, they play an important role in your image formation, since they can model not only your hairstyle, but your face shape and look in whole. With all their versatility side bangs are very popular today. Any face shape can benefit from side bangs. You will only need to vary their length, thickness and finish. We have literally fallen in love with the following 40 side swept bangs hairstyles, so impressive and complementing they are. We believe you'll love them too and find an idea for your next haircut.
You've probably noticed that many red carpet hairstyles today are paired with side bangs. No wonder, they are extremely stylish and seductive, versatile and quite convenient. Long bangs can be styled into a fancy side wave or simply straight on a slant to skim your cheekbone. Long side bangs can be even braided for a change.
If you feel quite happy with your current hairstyle and don't want to change it fundamentally, it's enough to change your bangs. Side bangs remain a favorite for many seasons in a row. It seems they will never be out of fashion, because with flirty and feminine side bangs a woman looks sexier and more elegant.
How to Choose Your Ideal Side-Swept Bangs?
Bangs on a slant. These elongate your face, make your cheekbones appear more delicate and suit short and medium haircuts. Besides, with bangs on a slant you can easily conceal a high forehead and protruding cheekbones.
Long bangs swept to one side. It's a very versatile type. Short haircuts with long side bangs look chic and eccentric. Medium hairstyles with such bangs acquire added femininity and refinement. With wavy hair you may not flat iron your long bangs. It's enough to convey them a cute bent.
Side choppy bangs. Bangs cut chaotically with jagged edges create fun texture and nice volume. They match short-to-medium lengths perfectly. Choppy bangs with defined pieces look great in messy hairstyles.
Short side bangs. These do not cover the eyes and flatter girls with perfect face and neck contours. Short bangs look the best with short asymmetric haircuts.
Different Side Bangs to Complete Your Trendy Haircuts
For further inspiration, take a look at the photos below and get ready to have severe hair envy!
#1: Eye-Skimming Side Bangs and Waves
For a sexy look from under the bangs, try thick bangs that hit on your cheekbones. This might be an annoying length for someone, since such a fringe isn't long enough to be worked into updos and some braided styles, but the look is cute and many girls go for it.
#2: Side Swept Bangs for Thick Hair
Side swept bangs and shoulder length hair are an unbeatable combination. Part your hair on the side and gently tease the lengths for a polished style that requires minimal effort. Mist with hairspray to keep everything in place.
#3: Pixie Cut with Side Bang
Are you worried that your short haircut will look too boyish? Introduce a side fringe. A dramatic style that goes from the eyebrow to the cheekbone creates a feminine finish. Play up the look with auburn highlights.
#4: Tousled Fringe for Straight Hair
Extra long bangs are in. Get them finely chopped or layered to make them feel light and swoopy. Such bangs pair well with medium and long cuts. You can pin them up and back or feed them into a headband braid on the days then you need hair off your face.
#5: Jet Black Wispy Bangs
Long hair with side bangs is a romantic solution for breezy days by the sea. Beach waves, combined with a wispy side bang, soften the look and look spontaneous.
#6: Long Layers with Side Fringe
For those who aren't too keen on layered hair, you can add some dimension to your 'do with your fringe. These front layers hit just above the nose so they are very versatile. You can style them into updos or clip them completely off your face.
#7: Thick Side Fringe for Long Hair
Side bangs add a flirty touch to longer styles. Check out how pretty her cheek-skimming bangs are when they're mixed in with the full, tousled layers. If your mane isn't quite as full as hers, apply a thickening mousse to the lengths of your hair to achieve a similar effect.
#8: Blonde Bangs over One Eye
One day you understand you need to do something with your hair because it's not enjoyable any longer. Boost your locks with thick side-sweeping bangs and an undone texture.
#9: Tousled Bob with Long Fringe
There is something about sleek side bangs and tousled mid-length hair that just works. The mix of textures does not feel disjointed thanks to the way the hairdresser has blended the ends of the bangs with the front layers.
#10: Dark Brown Hair with Bangs
The long cascading bangs blend into the lengths of the hair to form full curls. That's a perfect haircut if you want to wear your thick long hair free-flowing.
#11: Flipped Fringe with Soft Layers
One of the advantages of a side bang is that it can be cut to blend seamlessly into layers. For a flowing, feminine shape, keep the shortest lengths around the jaw line instead of the brow. Use a round brush to create flicked ends.
#12: Edgy Bob with Bangs
Textured edges styled into points give this cut a trendy finish. The side swept bangs are sculpted into a "V" shape, which prevents bulkiness as they're brushed to the side. Shorter lengths that fall above the cheekbone emphasize the eyes.
#13: Shoulder-Grazing Tousle
One of the easiest ways to switch your look is to change your part. Flipping hair to the opposite side as your natural split creates instant volume. If you like to mix things up, choose thinned edges with layers that move and blend.
#14: Feathered Bangs with Long Ripples
The layered side swept bangs sweep softly away from the face. Cutting with elevation removes bulk, which allows this longer fringe to flow up and back instead of hanging low and flat. Here, the remaining hair is kept long and unbroken, maximizing versatility of the cut.
#15: Tucked Bang with Shaggy Layers
Want a haircut that looks great without a lot of effort? Try long side swept bangs and lots of layers. The fringe flows into the shape if left loose or can be set apart by styling sleek across the forehead, clipped or tucked in place.
#16: Side Fringe and Surface Layers
A side part and soft bang are transformative, elongating, emphasizing cheekbones, and minimizing differences between the two sides of the face. Keeping shorter lengths on the exterior adds movement without thinning, a great option for fine hair. The angled front has a slimming effect.
#17: Divided Long Bangs
This cut is perfect if you like the look of hair split down the middle but find it too severe for your features. Center-parted cheekbone-grazing bangs have an easy going lived-in quality that's perfect for pairing with long layers.
#18: Voluminous Curls and Wispy Fringe
Do you love all things frilly and girlish? The transparent wisps skimming across the brow are a coy addition. For ladies whose style is ultra-feminine, combining long hair with side bangs is perfect. The bouncy coils, glossy sheen, and voluminous roots ooze glamour.
#19: Medium Length with Comb Over
A collar bone length with a cheekbone-grazing fringe offers the style of a short cut and the versatility of a long one. To get lift in the roots of your bang, dry them to the opposite side of where you'll wear them, then flip them back.
#20: Tucked and Layered Bob
Layering a bob creates a lean, contemporary shape with piecey ends. The elongated fringe sweeping across one eye adds allure. A deep side part is essential for creating dramatic swoop bangs. Tuck the thinner side back for a demure flash of earlobe.
#21: One Length Cut with Bangs
Nonlayered hair with crisp blunt ends is a classic look but it can feel a bit boring. Long side bangs brushed across the forehead provide the perfect embellishment. This shape is pretty when worn straight, but looks even better styled in extended spirals.
#22: Piecey Pixie
When opting for short hair, considering the details is essential. The same basic cut can look womanly or epicene depending on texture, styling, and shape of the fringe. Here a choppy angled bang sweeps across the forehead, offsetting clean barbering at the sides and back.
#23: Beachy Shoulder Length Cut
Dark roots, a salty-air texture and a matte finish give your hair a surfer-girl vibe. A fine wisp of short side bangs dusts elegantly across the brow. To create the undone texture, mist damp hair with sea spray and scrunch gently.
#24: Long Bangs and Textured Ends
Some haircuts only work with particular features and face shapes, but a long bob with side bangs flatters everyone. Tapered edges and the color bone dusting length elongate the neck. The slanted front emphasizes your bone structure and softens features.
#25: Tousled Uniform Layers
It's important to pick a fringe that flatters your face, but it's also crucial to select one that matches the rest of your cut. The layered side swept bangs pictured here perfectly complement the choppy cut. The disheveled texture adds a playful finish.
#26: Soft Ends and Angled Front
If you like to style your strands curly or wavy, try a shoulder length textured cut with soft edges. Removing weight enhances natural movement and helps hair hold its shape. The side bang speaks sophistication, elevating coils from girlish to elegant.
#27: Silky Volume with Flipped Bang
Long layers and a side swept fringe add oomph to fine hair. Flicked up ends expand the shape. It can be challenging to achieve both volume and shine, but a good thermal protectant and a ceramic round brush can accomplish the task.
#28: Thinned Ends with Thick Side Bangs
If you want to make a classic cut more interesting, incorporate some polarity. Contrasts create visual drama, adding excitement to simple cuts. Here a chunky fringe is offset by feathery layers through the ends. The front is styled sleek while the ends are subtly mussed, enhancing the juxtaposition.
#29: Peek-A-Boo Bang with Feathery Layers
There is something sexy about a veil of hair that falls over the face. Bangs also make your mane appear thicker, a great trick for fine strands. Instead of trying to create weight with a blunt edge, the soft layers here embrace natural wispiness.
#30: Short Crop with Long Bangs
The bold panels of red and gold emphasize the sweeping movement of this side bangs haircut. The nape and temples are tightly tapered for an edgy look. Strands at the top gradually build from short to long, forming a thick layered bang.
#31: Understated Ombre
Side fringe can make dark hair appear heavier, so it's best to lighten up—literally! Ombre draws the eye down and makes your strands appear more weightless. While it is subtle, it makes all of the difference.
#32: Burgundy Layers with Bangs
Take a cue for your next hairstyle from your favorite adult beverage—red wine! The exquisite notes in the drink also make for an alluring color solution within the long layered locks. To double the trouble, paint your lips in a similar hue.
#33: Srtaight Layered Bob
Jet black looks particularly fetching against porcelain skin; it's edgy and a little bit romantically gothic. Accent shoulder length straight hair with lustrous lashes and rosy lips for a bambi-like effect; for a makeup artist tip, try lining your water line with a white pencil to make your eyes pop.
#34: Braid Crown with Thick Bangs
Braided crowns are lovely because they take any casual look and elevate it. The style here is perfect for those days when you have an unexpected client meeting or an event to attend. It instantly takes you from drab to fab.
#35: Black Hair with Blue and Purple Highlights
Modern side bangs are usually long, but you can also go for a cropped diagonal fringe that accentuates your eyes. Throw in some highlights in the color of your eyes to flatter them even more.
#36: Pastel Pink Side Bangs
Everything about her look screams "pretty" from the delicate dye job to the flowing fringe and undone waves. To recreate the look, blowdry your bangs with a large round brush and finish things off by curling the ends with a straightener.
#37: Long Hair and Side Swept Bangs
A good rule of thumb is to try to keep the length of your fringe in proportion to the rest of your locks. In this example, we have super long hair and extra long side bangs.
#38: Long Ginger Layers with Bangs
If you are planning a long layered cut, you may decide to have no bangs. When styled with a side sweep, shorter layers within your haircut work as bangs that perfectly merge with longer strands.
#39: Shaggy Black Bob
While most people use extensions to add length, some use a sew-in to try a shorter style. This is perfect for anyone who wants to see how a certain haircut will flatter their face shape before fully committing. A shaggy bob is the best place to start.
#40: Choppy Pixie Cut
Micah Gianneli is known for her standout fashion sense and enviable abs. The stylish pictures on her blog get a definite boost from her elevated beauty. She is recognized for her signature winged eyeliner and matte red lipstick, but her short cut deserves our attention too – it shows off her bone structure and lets her beauty shine through.
When you get bored with your hairstyle, you can easily refresh your look with side bangs. They are easy to style and maintain. Bangs frame our faces, that's why we are so picky about them. Some of these will definitely flatter you and spice your stylish hairstyles.