27 Artistic Tattoos To Honor Your Passion For Art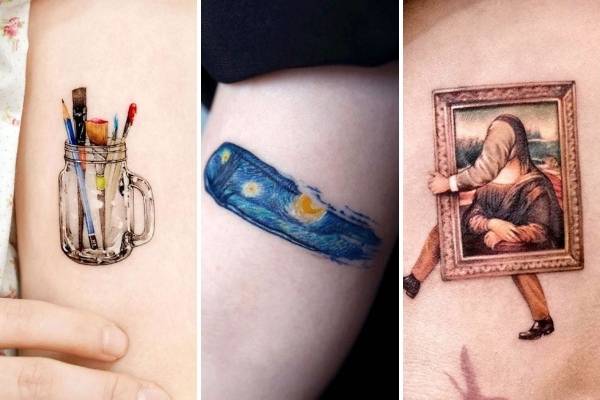 Are you an art lover or a committed artist? From small pieces to bold designs, these artistic tattoos will capture everyone's attention.
The word "artist" may remind you of Vincent Van Gogh, Pablo Picasso, and Claude Monet. Their works reflect both their talent and their personality. Today, there are millions of artists: illustrators, musicians, photographers, sculptors, etc. But the essence of art remains the same. It's a way of self-expression. And the medium doesn't really matter.
Tattooing is the same. And what's a better way to combine different forms of art than getting an artsy ink? A canvas doesn't need to be a piece of white paper. Your body can be the best place to showcase your love for art. Whether you are an art lover or a creator, artistic tattoos will be a token of your passion.
An artsy tattoo can be as simple as a paintbrush or shades of paint. Or it can be a sophisticated painting on the skin. Stay simple or go big; the possibilities are endless. 
Haven't made up your mind? These fantastic artistic tattoos will give you some ideas.
Disclaimer: This tattoo collection is for inspiration only. Please do not copy the artwork. If you love these tattoos, follow artists and show them some support.
Artistic tattoos for artists and art lovers
A shade of starry night
@tattoo_a_piece
Not a fan of large-scale, intricate tattoos? This small shade tattoo gives you a glimpse of the famous Van Gogh masterpiece. It proves that small tattoos can be captivating, too.
The Beijing Jingshan Park landscape tattoo
@newtattoo_franky
Pantone color card arm tattoo
@abii_tattoo
Artists and fashion designers are familiar with the Pantone colors. It sets the trend with its color of the year. This creative tattoo features Monet's Waterlilies in a Pantone color card. It artistically represents the wearer's aesthetics.
Sunflower by Van Gogh
@beno.tattoo
Sea in the starry night
@fluffy_tattoo
Van Gogh's paintings show up in a lot of artistic tattoos. But instead of copying the painting, this tattoo transforms the art into waves under the moonlight. It shows how a tattoo can pay tribute to the classic and be creative at the same time.
Poppy Field
@ovenlee.tattoo
Poppy Field is one of the most well-known works of Monet. The artist was mesmerized by the summer view of Argenteuil, where he once lived. And he turned the scene into a breathtaking painting.
With proper techniques and coloring, the tattoo captures the essence of the artwork. But it also adds a twist. The painting is framed in a window and turns into beautiful scenery at our fingertips. It pays tribute to the original artwork in a creative way.
Blocks in colors
@tattoo_artist_olive
Mark Rothko was known for his paintings of rectangles in colors. He believed that shapes and colors were the pure forms of art. So he chose them as the subjects of his paintings instead of other objects or people. If you resonate with Mark Rothko's philosophy in art, these colorful block tattoos may be for you.
The melting Lisa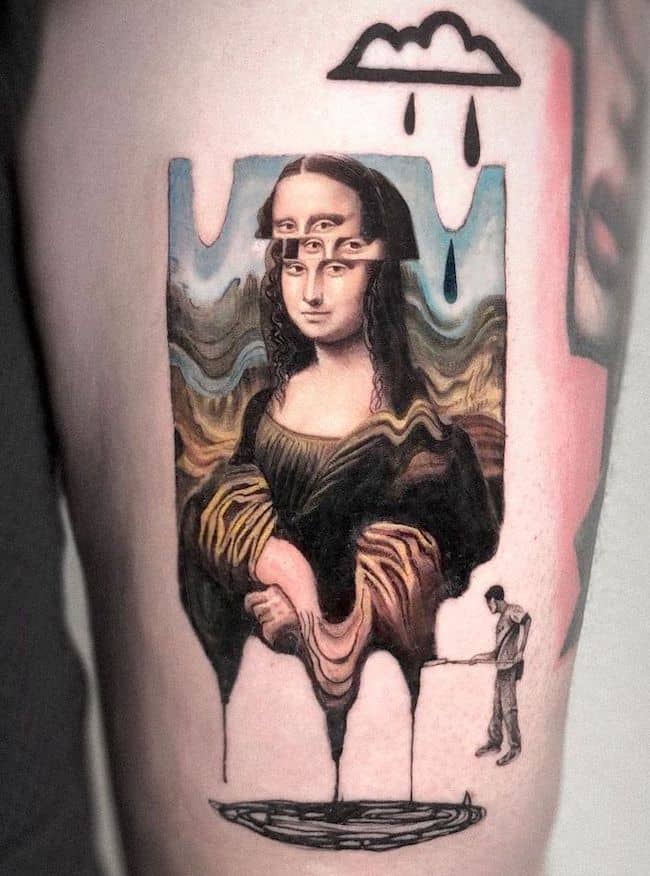 @kozo_tattoo
Magic happens when tattoo artists inject creativity into classic art. This Mona Lisa tattoo is a great example. What a fun and visually impactful twist!
When sculpture meets music – A Venus tattoo
@pilgrim_ttt
Carnation, Lily, Lily, Rose
@lafragile_
Created by American painter John Singer Sargent, the painting features contrasting colors with attention to detail. I can only imagine the work going into this tattoo. And it turns out to be a perfect replica.
The painter that gets painted – A Van Gogh tattoo
@jiro_painter
Starry night in the mirror
@ink.traveler
Girl with a Pearl Earring
@jinkblack_tattoo
Venus de'Medici sculpture tattoo
@tingting_tattoo
The painter's toolset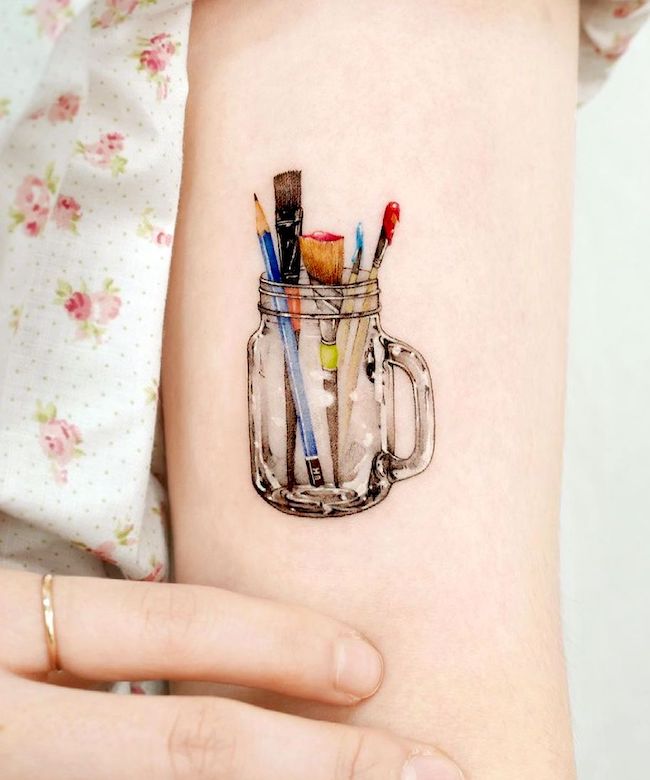 @songe.tattoo
Pencils and paintbrushes are must-haves for painters. This minimalist stencil tattoo serves as a reminder to keep forging in the pursuit of art.
Poppy Field by Monet
@lafragile_
Poppy Field is one of the signature work of Claude Monet. It captures the sunlight and the vibrant colors of nature. Want to bring liveliness to the skin? Monet's art would be a good idea.
The Persistence of Memory by Salvador Dalí
@lafragile_
First created in 1931, this surrealism painting has an immense influence on the art world. The original painting portrays a dreamy landscape. As a tattoo, the melting clock drapes around the table's edge and creates a unique three-dimensional effect.
The flow of colors
@newtattoo_demi
Shapes, lines, and color combinations are three things that make a tattoo unique and stunning. And this abstract wave tattoo is the perfect example.
Put it down
@newtattoo_neuneu
Every now and then, you will come across stunning tattoo art. But ink designs that give you a good laugh are rare. And this tattoo is one of them.
The Starry night
@lafragile_
This tattoo recreates the famous Van Gogh painting – The Starry Night. Compared to the original artwork, the tattoo is in a circle rather than a rectangle. It matches the swirls in the painting and fits perfectly on the skin.
A gradient shade of paint
@eunb.tt_
Artistic tattoos aren't always intricate. This small colored tattoo features glossy gradient colors. The transition and the glow make it look like an actual paint stain.
The Empire of Light by René Magritte
@marcelabadolatto
The unrequited love
@lafragile_
If you love art but don't want the whole painting inked on the skin, these matching artistic tattoos may be what you are looking for. The artist removed the background of Echo and Narcissus, and made the two main characters center of the tattoos. However, these are not romantic tattoos for couples.
Echo and Narcissus was created by John William Waterhouse in 1903. It recreated the Greek mythology of Narcissus. He was the son of the river god and was extremely self-absorbed in his beauty. The maiden Echo fell in love with him, only to find out that the love is one-way. 
Narcissus later became the origin of the word narcissist, referring to those who only care about themselves and their public image.
Van Gogh portrait tattoo
@kozo_tattoo
A landscape tattoo inspired by Thelma & Louise
@tattooist_basil
This tattoo draws inspiration from the 1991 movie Thelma & Louise. It recreates the landscape in the movie, and brings us back to that wild road trip.
The artist's palette
@tattoo_a_piece
Can't decide which color to use on your next tattoo? How about all of them?
A Chinese ink wash painting tattoo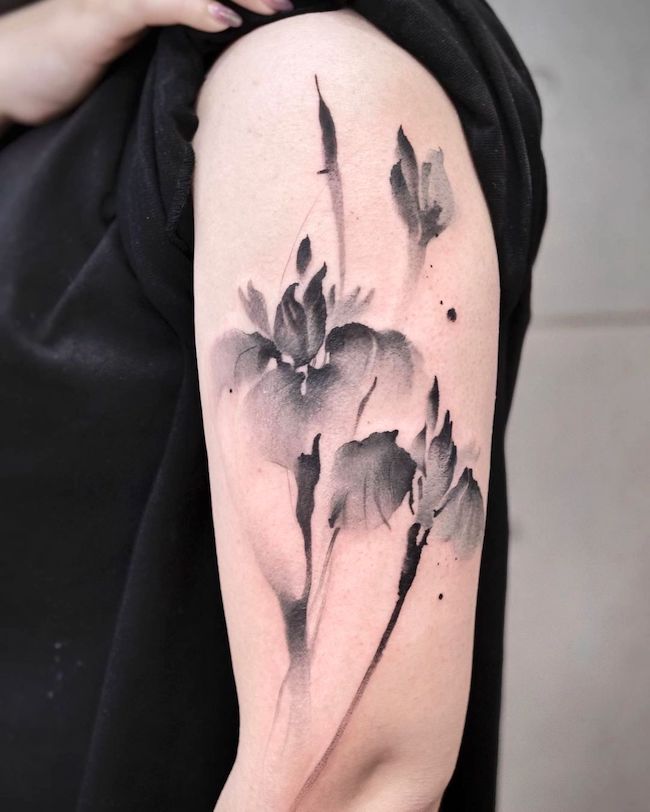 @chenjie.newtattoo
Ink wash is a technique to paint with black ink, the same type used in Chinese calligraphy. The black color and simple shapes together create a poetic feeling to the iris flower tattoo.
Which of these artistic tattoos do you like the most?
Hope you've found one or two designs for your next ink. Leave a comment and let me know which one do you like the best!
You may also like:
76 Disney Tattoos To Unleash Your Magic Power
32 Empowering Self-love Tattoos And Meaning
37 Classic Cartoon Character Tattoos To Bring You Back To Childhood