2021 Tattoo Cost – Your Guide to Average Tattoo Prices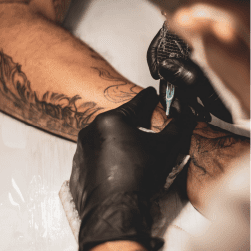 Factors That Impact Tattoo Prices
Size, complexity, body placement, coloring, the artist's level of experience, location of the tattoo parlor, and the equipment used have the biggest impact on tattoo cost. 
Size
Size plays one of the most important roles in tattoo cost. It will influence whether you pay a flat rate, an hourly rate, or a half- or full-day rate. Larger tattoos are naturally more time-consuming than smaller ones, and they often take more effort to design.
How Much is a Small Tattoo?
A smaller tattoo often costs just $50 to $150, although this depends on other factors like complexity. Getting a simple outline of a star will typically cost less than a watercolor flower, for instance. If you're planning to get multiple small tattoos, you might be wise to get them all done in a single session, which could save you money if they're quick and easy to do. 
If you need to fade or remove a small tattoo prior to getting a design that you truly want, small tattoo removal cost can be quite manageable. Removal rates often range from $10 to $25 per square inch for each session, and Removery offers a great package deal for removal.
How Much Does a Sleeve Tattoo Cost?
Half sleeve and full sleeve tattoos can be intricate pieces of art because they are so large. This means a full sleeve design can also be an expensive tattoo.
Hourly rates for sleeves usually exceed an artist's standard hourly rate for a tattoo because these designs typically include a high level of detail and lots of colors. They tend to range from $1,500 to $6,000, depending on the level of detail and other factors like the artist's skill level. Plus, the artist is working on a curved rather than flat surface, meaning designs can be trickier to execute. 
The artist must take care to place the tattoo in a way that complements the shape of the arm. People often get a sleeve tattoo done over the course of several sessions rather than all at once, since the full wrist-to-shoulder area is a lot of ground to cover. This is beneficial for several reasons:
It's hard to sit still for too long; the longer you are seated in a tattoo parlor, the more likely you are to accidentally flinch or fidget due to physical discomfort or boredom.

Sleeve tattoos are a lot of work for the tattoo artist, and most people perform at their best when they aren't working for extremely long stretches. They often take more time than even a long workday would allow.
If you need full sleeve tattoo removal prior to getting the sleeve tattoo of your dreams, that will take some time (typically at least a year and a half) and additional expense. Removery offers financing for tattoo removal so no one needs to delay getting started with the process.
Never ask your tattoo artist to rush on a project, especially one as detailed as a sleeve tattoo. Be patient, and you'll be sure to get the best results possible.
Tattoo Design Complexity
The amount of time the artist must put into actually designing the tattoo will influence the price. A piece of flash may require no time at all, while designing a custom full-back tattoo could take hours. 
Artists commonly bill for one hour of time for the tattoo design, though for very large designs, they sometimes throw in the designing at no additional charge, due to the high commission they'll be receiving for all the hours of work. 
The complexity of the design will increase the time required to actually tattoo the design as well, so consider the level of detail involved and the precision needed to carry it out. 
Tattoos that incorporate delicate shading will require more time and skill than those with uniform colors and simple black outlines. A realistic tattoo of an animal, a portrait of a loved one, or an intricate geometric design will require more skill and care than a cartoon figure, for instance.
Black and Gray vs. Color Tattoos
Opting for a full color tattoo can increase the complexity of the design, as the artist must consider how to place or blend them for the desired effect. The artist has many more stylistic choices to make while creating a full color tattoo design than one in grayscale.
Tattoo Artist Experience
Your tattoo artist's experience and level of popularity will strongly affect the price of your tattoo. Unless you're already set on getting a tattoo from a particular artist, explore the work of multiple tattoo artists in your area to make sure you're choosing the right one. Don't just look at the experience itself; also make sure the artist's style fits your own.
Tattoo Parlor's Location
The tattoo parlor's geographic location will influence the price of a tattoo as well. Cities with a higher cost of living like New York will have higher rates for tattoo prices. If you live in a place that attracts a lot of tourists, tattoo prices are likely to be higher.
Professional Equipment
Going to a safe, hygienic parlor that follows the proper protocol will cost more than going to a disreputable, mediocre studio, but you should never sacrifice safety to save money. You'll want to choose a tattoo parlor with a great reputation and the proper licensure with your state. Ensure it follows best practices like using a new needle from a sealed container for each client and sterilizing equipment that can't be thrown away.
The amount and type of ink needed can also affect the price. Larger tattoos with many colors will require more materials in terms of ink and needles than smaller black-and-white pieces.
Finding the Right Tattoo Artist for You 
Factors like size, complexity, geographic location, and the artist's experience can greatly influence the cost of a tattoo. Research prospective tattoo artists carefully, so you'll find the person whose style best fits your own. It's much better to spend more time saving up for the right tattoo than to get one from the wrong artist simply because they offer a lower rate!
If you're considering tattoo removal or fading for a coverup, book a consultation with Removery. Our experienced specialists will answer all of your questions about how removal can give you a blank slate to work with. We'll walk you through every step of proper tattoo removal aftercare so you can achieve the best possible results from each session.